LMS Stanier Class 8F 2-8-0
The London, Midland and Scottish Railway's 8F class 2-8-0 heavy freight locomotive was a class of steam locomotive designed for hauling heavy freight. 852 were built between 1935 and 1946 at various railway workshops all across the United Kingdom. It was considered as a freight version of William Stanier's successful Black Five, and the class saw extensive service overseas during and after the Second World War. The 8F design incorporated the two-cylinder arrangement of the Black Fives. They were initially classified 7F, but this was later changed to the more familiar 8F.
On the outbreak of the Second World War, the design was chosen to become the country's standard freight design, reprising the role the GCR Class 8K had in the First World War. The War Department had 208 8Fs built by Beyer Peacock and North British Locomotive Company and requisitioned 51 more. Stanier 8F production for the WD continued until 1943, when the cheaper WD Austerity 2-8-0 was introduced. Production for British domestic use continued until 1946.
The "Big Four" Railways
Some 331 locomotives were built for the London Midland and Scottish Railway between 1935-45. A further 245 were built by the London and North Eastern Railway, Great Western Railway and Southern Railway in 1943-45 for LMS stock, though mostly retained on loan by the other railways during the war. The LNER also purchased 68 Stanier 8Fs for its own use in 1944-46, classifying them O6, though these were also sold to the LMS after the war.
British Railways
624 8Fs passed into British Railways ownership when Britain's railways were nationalised in 1948. A further 39 were purchased from MEF stock in 1948, and a final 3 from the Longmoor Military Railway in 1957, bringing the total to 666. The 8Fs were concentrated on the London Midland Region, but were also allocated to former LMS sheds on other regions. Despite some having operated in Scotland by the LMS, they were not common on the Scottish Region under BR ownership as the later WD 'Austerity' 2-8-0 and 2-10-0 types were used instead.
Withdrawal
The 8Fs were successful and durable locomotives in BR service, with all 666 locomotives surviving until 1960. Routine withdrawals began in 1964 with 150 surviving to the last year of steam on BR.
All examples that ran in the UK
Authentic audio recorded from Stanier-designed locos, with additional audio supplied by Steam Sounds Supreme
6 authentic liveries:

British Railways - Early
British Railways - Late
GWR-style LMS livery
London, Midland & Scottish Railway
London North Eastern Railway (LNER & NE lettering)
Preserved 48151 in mainline condition

Tenders

Stanier 4,000 Gallon Tender
Fowler 3,500 Gallon Tender (BR Late only)

Customisable lamp arrangement (locomotive and tender)
High Intensity lamps for fictional modern mainline running (48151 only).
Radio Electronic Token Block (RETB) system (48151 only)
A selection of 30 headboards (48151 only) including:

The Great Britain
Cathedrals Express
Cumbrian Mountain Express
The North Wales Coast Express
Welsh Marches Express
Royal Scot - 2 versions
The Thames-Clyde Express
The Red Rose
The Waverley

Customisable loco numbers, controlling the following features:

Number
Shed plate code
Ejector type
Reversing rod type
Lamp Irons
Balanaced or Unbalanced Wheels, including cabside star on Late BR livery
Lamp codes (front and rear)
Yellow cab stripe (BR only)
Locomotive condition

Realistic performance physics
Realistic regulator and steam chest simulation
Vacuum Brake Ejectors
BR ATC simulation
Injector simulation
Gauge Glass blowdown
Realistic adhesion model
Stunning fire and smoke effects
Directional sanders
Functioning isolation valves in cab
Steam heat simulation
Opening cab doors, windows and vents
Gauge vibrations at speed
Performance mode for less powerful PCs
Water Scoop
Automatic Fireman
4 engaging scenarios
105 Quick Drive consists*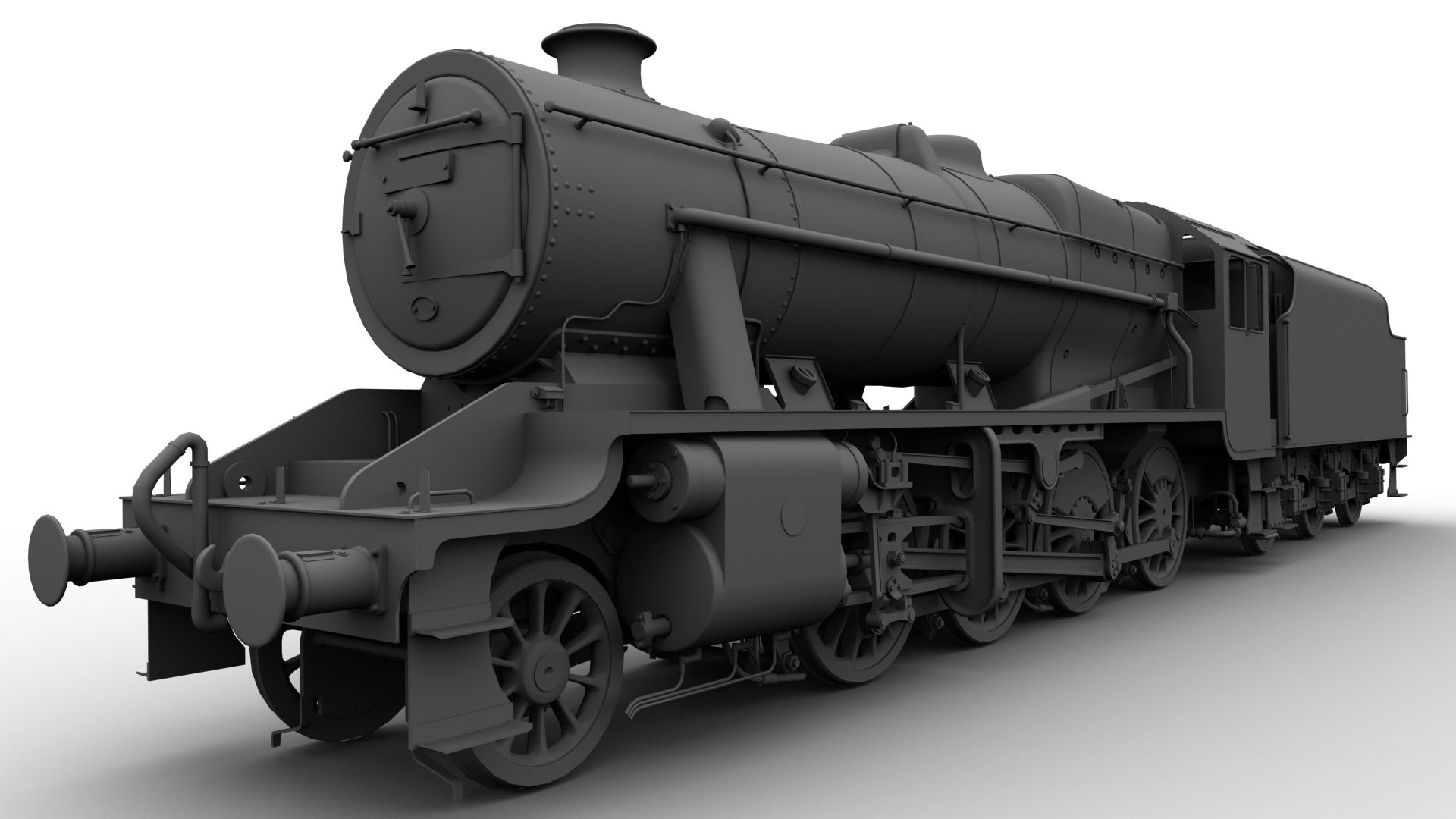 LMS (ex-LNWR) 4 Plank Coal Wagon - Diagram 53
LMS (ex-LNWR) 5 Plank Coal Wagon - Diagram 54
LMS 20T Brake Van
BR Carflat FVV

Loaded and Unloaded
Green, Red, White and Blue 1960s period cars

BR Conflat A

with Insulated Containers for frozen goods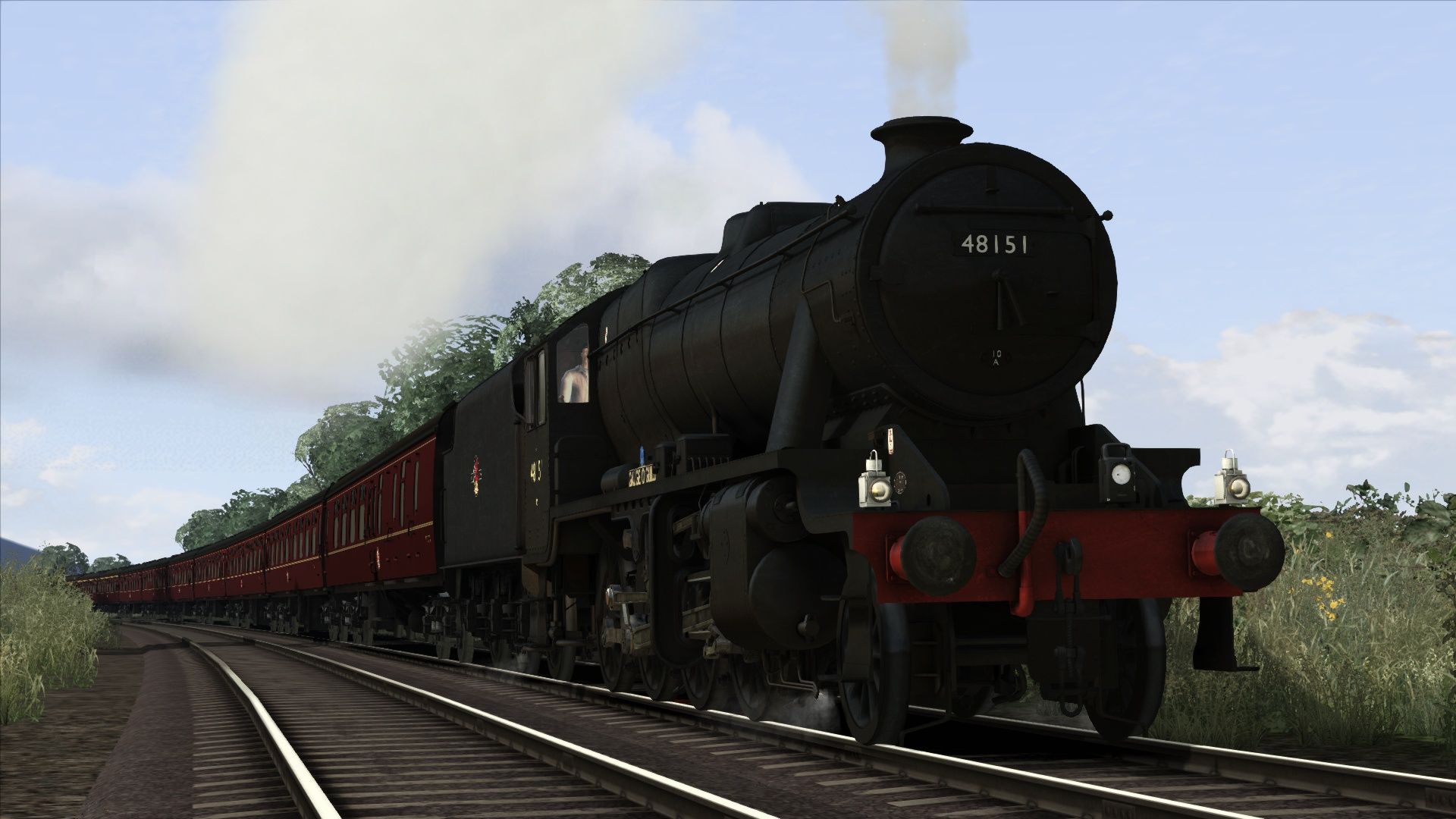 Required for Scenarios:
*Required for 48151 Quick Drive Consists only:
Size: 850mb